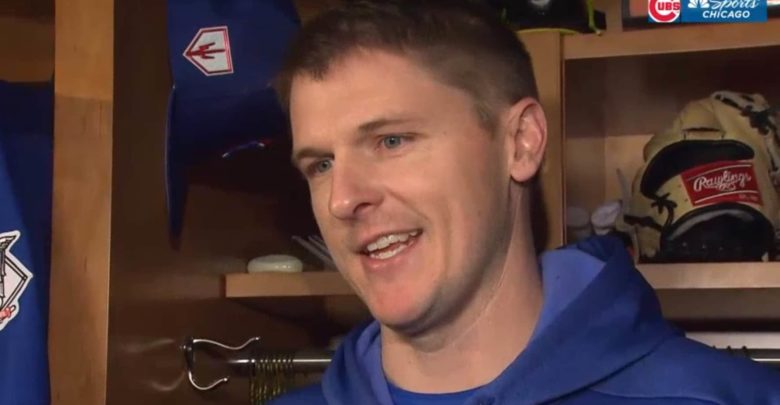 Who Will Be Odd Man Out When Craig Kimbrel Is Ready?
When the Cubs signed Craig Kimbrel, they knew it would take him a couple weeks to get into game shape. Even though he had maintained his workouts ($) while waiting to get a deal, having to face actual hitters in a competitive environment is an adjustment and it's not something the team wants to rush. So he's working up to speed and recently threw a 24-pitch bullpen session, and the Cubs' "rough draft" could still have him in Chicago by the end of June.
Kimbrel will clearly help to solidify a bullpen that has been without a true closer this season, but his activation will come at the expense of a current reliever. So who's the odd man out?
Steve Cishek and Pedro Strop are locks, barring any additional pregame catch mishaps. Carl Edwards Jr. has looked much better since returning from Iowa and has a job once his thoracic strain eases and he comes off the IL. Tyler Chatwood and Mike Montgomery offer versatility as situational long men while Brandon Kintzler has been relatively reliable when it comes to hunting double plays.
The two weakest links in the Cubs 'pen, then, are lefty Kyle Ryan and righty Brad Brach.
Ryan has rather unexpectedly become Joe Maddon's LOOGY for most of the season, but has really struggled . after a promising start to the year. The lefty has allowed eight runs his last 10 innings (6.20 ERA, 5.75 FIP) and doesn't offer much of a platoon advantage. The 41 left-handed batters he's faced have slashed .306/.366/.389 against him in 2019, though he's at least kept the ball in the yard (righties have homered three times).
Brach, on the other hand, has scuffled badly this season and simply hasn't been able to put hitters away.. His ERA now sits at an ugly 6.49 and he has walked 22 batters in just 26.1 innings pitched. His hard-contact rate is up and the former Oriole even told reporters that his recent outings were unacceptable.
As of right now, Brach seems like the most likely to get the ax for a couple of reasons. Ryan is the only lefty other than Montgomery in the bullpen, and Monty is better suited for a long role than just platoon matchups. Xavier Cedeño is injured and Randy Rosario was awful in his brief MLB appearance this year, thus Ryan is the only option unless the Cubs are able to acquire the high-leverage lefty they've been searching for.
Ryan still having minor league options might seem like a benefit to Brach, who would have to released instead of just being sent to Iowa to work on things. But a mono diagnosis this spring prompted Chicago to rework Brach's contract from $4.35 million to just $3 million guaranteed. Since it's just a one year deal, releasing him would cost pretty much nothing, especially with the new revenue streams that allowed the Kimbrel signing.
The Cubs still have at least another week to figure any of this out, and it's entirely possible that a serious of injuries could allow them to postpone any hard decisions for weeks beyond Kimbrel's activation. But unless Brach's performance improves significantly in that time, he may be looking to catch on elsewhere.