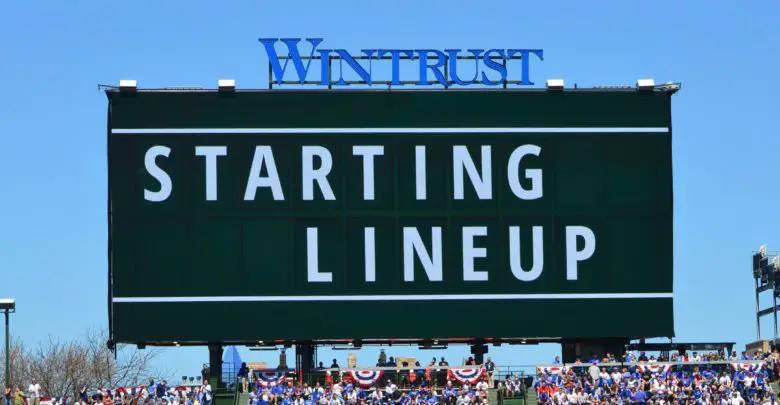 Chicago Cubs Lineup (6/11/19): Schwarber Leads Off, Russell Returns, Almora Bats 9th, Quintana Pitching
The Cubs are getting another crack at a rookie pitcher, one who confounded them in his MLB debut just five days ago. But that was at Wrigley and he had some heavy air in his favor, so we'll see how Peter Lambert fares in his first game at Coors Field.
Applying the lie detector to that first outing will be Kyle Schwarber, who will try to keep his hot streak alive at leadoff. The slugger is still looking at too many called third strikes and Lambert saddled him with a pair of backwards K's on fastballs last week, so Schwarber will need to be aggressive against the strike-throwing righty.
Kris Bryant is next at third, Anthony Rizzo is at first, Javy Báez cleans up at short, and Willson Contreras is back behind the plate. Jason Heyward is in right, Addison Russell returns to the lineup after resting the hand he hurt sliding the other day, and Albert Almora Jr. is in center batting ninth.
David Bote gets a rest in this one, which makes sense for a hot hitter in the friendly environs of Coors Field. Expect to see him as a pinch hitter, unless the Cubs can get a complete game from José Quintana.
Lambert set a Rockies rookie record — say that five times fast — by striking out nine batters in his first start, though he did it without overpowering stuff. He located the fastball well, pulled the string on the change, and bent the curve to great effect over seven innings to hold the Cubs to one run. But all the while, there was this sense that he was getting by on a little situational good fortune.
Granted, Lambert kept the ball down and got tons of grounders to keep the Cubs from capitalizing on the four hits they managed. He didn't coax much soft contact, though, and you wonder how well that's going to play at Coors. Lambert's whole game is throwing strikes, so the reduced margin for error in Denver could produced a decidedly different result this time around.
Quintana faced Lambert — whose name is actually a portmanteau describing Ernie's buddy trying to escape the law — last week and deserved better than the loss with which he was saddled. Giving up only three runs while issuing no walks over seven innings is something you'll take from Q every five days without question.
He'll need to stay on point again in this one, as we've already seen pop-ups sailing over the fence. Throw strikes, keep the ball down, work efficiently. That's what the Cubs need from Quintana.
First pitch is once again at 7:40pm CT on WGN and 670 The Score.
Here is tonight's #Cubs starting lineup.

Game preview: https://t.co/mzyRPeYGmw pic.twitter.com/jRDcGQWhoc

— Chicago Cubs (@Cubs) June 11, 2019