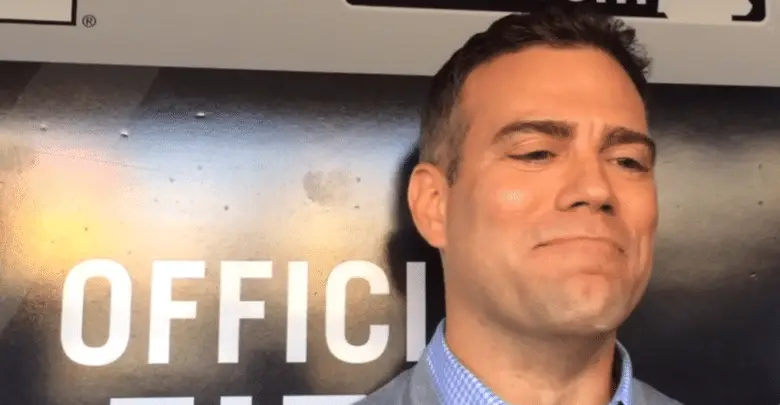 Even with Financial Limits, Cubs Could Still Target 'Big-Ticket Hitter'
Just because the Cubs are reportedly unwilling to napalm the competitive balance tax thresholds, that doesn't mean they're totally out of the market for a big bat this winter. The whys behind the talk of fiscal conservativism are many and varied, but for the purposes of this piece we're going to assume the very consistent reports are accurate.
The common refrain among doubters has been that picking up Cole Hamels' option is a clear sign that the Cubs are absolutely comfortable spending big. And if they aren't, goes the logic, it's the most egregious mistake they could have made this offseason. Except neither of those things is necessarily true.
As Sahadev Sharma wrote for The Athletic (subscription), the Cubs see Hamels as a solidifying force who's well worth the $20 million option they picked up on him for 2019. And that salary figure can actually be reduced by about $5 million since the Cubs traded Drew Smyly to the Rangers in an accompanying move, plus there's probably a little more you can take off based on how buyouts are prepaid as part of AAV guarantees.
The decision to pick up Cole Hamels' $20 million option…should not be viewed as an either/or decision when it comes to Harper or Machado. Bringing Hamels back is not the reason this front office isn't going to pursue one of those big-ticket free agents.
Hamels pushes the Cubs to the brink of the first extra penalty level of $226 million, but even turning down his option and signing Bryce Harper or Manny Machado for what they're projected to land would have put Chicago dangerously close to the $246 mega-penalty limit. And that's without addressing any other needs for the coming season, which don't all figure to come cheap.
I feel obligated to note again here that any self-imposed spending limits are both silly and disingenuous given the Cubs' massive revenues and their competitive position. They should be willing to spend whatever is necessary to improve the team, period. Not all of you believe a huge contract for Harper or Machado best achieves that end, but the fact remains that there's no justifiable reason for the Cubs to be unwilling to spend.
That said, there could still be ways for them to take on at least one major contractual obligation. Though Mark Gonzalez wrote nothing about the financial rumblings in his piece about potential targets, he noted the Cubs "could earmark most of their free-agent money toward a big-ticket hitter and try to address relief help through the trade market involving one of their young outfielders."
That latter idea got a little run here at Cubs Insider when I took a look at another blog's trade proposal that would send Kyle Schwarber to the Giants for one of their veteran relievers and perhaps some additional prospects. But while such a move would clear a spot in the outfield, it would do nothing of the sort for the payroll. And like it or not, we are still operating under the assumption money is a legitimate limiting factor.
Even with that in mind, however, a play for Harper or Machado is not completely out of the question. It would just require Theo Epstein to go full David Blaine and pull off the kind of stunt that leaves people wondering what the hell they just saw. I'm talking about making Tyler Chatwood disappear and teleporting Jason Heyward to another city. Both would require the Cubs to part with additional players and/or salary, but maybe there's a way to save $15-20 million in average annual value.
Mind you, I am not saying any of this will happen. It's just that making huge moves given the self-imposed constraints under which the Cubs are reportedly operating would necessitate some serious legerdemain. Of course, such reshuffling of the roster could deplete more of the Cubs' vaunted depth than they'd like, which is again a product of those spending restrictions.
But where do the Cubs turn if they opt not to pursue either of the two biggest players? We've seen predictions that they could opt for Andrew McCutchen to handle a corner outfield spot. Gonzales names DJ LeMahieu — which my buddy Gordon Wittenmyer would no doubt enjoy — and the aging Jed Lowrie as options in free agency. Sharma lists Nick Castellanos and David Peralta among plausible trade targets, though don't mistake that as him reporting that any talks are taking place.
At the end of the day, no one really knows what the Cubs are going to do. I'm not even sure the Cubs know at this point, particularly if the idea of having a lower cap on spending is a recent development for the front office as well as fans. We may have a better idea of how things stand once the GM Meetings commence this week, or maybe we'll still just be fighting on Twitter about whether or not the Cubs will spend big.
Ah, who am I kidding? We'd still be fighting on Twitter even if Epstein issued a postseason manifesto with detailed plans for exactly how he was going to proceed.